I love banners...a lot! I love that they are simple and totally easy to make and look amazing when added to your decor! Win-win!
This weeks episode of Sassy Style on My Craft Channel is all about banners, how to make them, and how to decorate with them! One of my favorite garlands, my straw garlands-use paper straws from the fabulous website-Bake It Pretty.com
My amazing friend Melissa-from Hollyhocks and Honeybees uses banners in her everyday decorating all the time! I love seeing how a simple banner is such a statement piece in her home!
Happy Creating!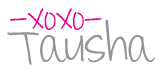 Linking up here
House of Rose
Fox Hollow Cottage