I love holidays! I guess I should probably say that I love decorating for holidays. When I was little and a holiday was coming up, I knew that I would come home from school and the house would be all hoilday'd out. My mom loves all the holidays and still decorates for each of them to this day. So, I guess I come by the need to decorate for holidays from her.
I wanted to share a couple of simple tips and ideas that you can use to decorate for
any
holiday without breaking the bank.
You need to have a surface to decorate. I know that you are probably thinking-Duh Tausha! I am saying that if you don't have a mantle, don't worry, you can decorate any flat surface you have in your home. I used to decorate
my old dresser
-but I moved it in front of the window, so I needed something else. Enter my pantry.
I don't have a regular pantry. I have a piece of furniture that I thrifted and turned into a pantry. Use what you have I say. I really want to paint this pantry white, but I haven't found the gumption to do it yet. However, I did find the energy to decorate it.
My first tip is to layer.
I like to use large items in a large space. So, I dug in my stash of old windows (yes, I have a stash-I'm a hoarder) and found a large, one paned window. I have used this window in a couple of other of seasonal groupings.
Halloween
and
Christmas
.
Step 2
- I then layered an old frame and one of my chalkboards with a valentine/lovey saying on it. I love my chalkboards and if you are wanting to know some tips on how to write on your own-I spilled some of my secrets in
this post
.
Step 3
-I needed something that had texture to it, but wasn't a green plant. Why not a green plant? Well, I tend to forget to water my plants when they are up here.
So-I used my book page wreath. I hung the wreath on the window with some yarn and a push pin. It's totally temporary and easy to do. Win-win!
Step 4
-Add different heights. This rule applies to any and all groupings that you are doing. You want to have some height difference. It's pleasing to look at. Just trust me. So, I added some simple hearts made out pretty paper and washi tape and a fabulous jar filled with red and white decorative balls. Super simple, but makes all the difference.
Step 5
-It's all in the details. This is the part about decorating that gets my motor running. I love the little things. It really is the little things that make a big difference.
I love this picture of my husband and I. I think that I look fabulous and so thin. Granted it is a cartoon of us, but I still LOVE it! Because all of you are going to ask where I got it-I got it from the amazing Jordan at Jordyluxe on etsy. You can get one of your very own too! She is amazingly talented and awesome to work with!
Back to the details...My love you sign-scrabble tiles just taped to the glass of a yummy round frame I picked up at the thrift store.
One of my favorite details of all time..
My old typewriter. I wish that I could say that this piece had a cool family story with it. Alas, it does not. I picked it up at a thrift store one day. It was under $20! Every time I look it, I am reminded why I love the thrill of the hunt at any thrift store. You really never know what you will find!
I told you that decorating for the holiday's didn't have to be expensive! I hope that I inspired you to look at the stuff you already own with a different set of eyes and see the decorating potential.
For more decorating ideas, tips and tricks, check out my show
Sassy Style on My Craft Channel every Friday.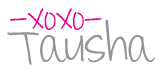 Linking up here
House of Rose