I have a love affair with chalkboard art! I love that I can change it on a whim and it doesn't require any heavy lifting or sweating.
I learned a couple of tips that make the whole process much more enjoyable and easier.
So, grab some chocolate and a cold beverage and get ready to learn how to draw on a chalkboard like a pro! You will be so good, your friends and neighbors will ask you to draw on theirs. Excited yet?
You can watch me draw and show you all of these tips. Awesome right? I really love writing on my chalkboards and I want you to love it too. Warning, it's a little bit addicting.
Tip #1
The cheaper the chalk, the better!
I have found the cheaper the chalk, the less of a shadow it leaves. (I have no idea if that is the right term. ie-what's left when you erase or try to erase previous art work. I am not a chalk pen fan. They look super cute, but I don't think they erase well.
Tip #2
Sharpen your chalk!
This was a-ha, groundbreaking, angels singing hallelujah moment for me! Make sure that you get a makeup sharpener. A makeup sharpener has 2 sharpeners, and one of them is bigger. You need the bigger one. Not that I learned this from personal experience of anything. I also may or may not have ruined the electric sharpener because I thought it would be smart to try sharpening chalk with it.
Tip #3
Use a damp cloth as an eraser
. I have used a wet paper towel in a pinch, but most paper towels will leave a residue. Old t-shirts work awesome!
Tip #4
Embellish your own handwriting
with lines, shading, polka dots, curly q's, shapes and different fonts. When I do a chalkboard, I use my own handwriting, but in different fonts. Meaning, print, cursive, my funky printy-cursive thing I do. Also, just by adding polka dots & curly q's-you can change your plain jane handwriting into fabulousness!
If you really hate your hand writing, there are so many awesome designs that you can print and trace off of an online source. I personally have a crush on a
Rhonna Designs Christmas
right now, so her sight is my go to for ideas.
Tip #5
How to make a chalkboard
I make my own chalkboards using annie sloan chalk paint or other brands of "chalk paint."I prefer it over regular chalk paint. You can read all about how I made my most favorite chalkboard in my house.
I know that you are thinking that all these tips are fine and dandy-but what the heck are you going to write on your
chalkboards
? I even have a solution for this...I have a pin board titled
Chalkboard Quotes.
I love words, and I am sure that you will find something that you will want to write on your chalkboard.
Happy Creating my friends!
If you are new to my blog~
Welcome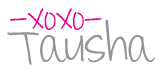 Linking up here
Linking up to my favorite parties: